An ICAEW-qualified accountant plus beautifully simple business accounting software – for one affordable monthly fee.
Our online accounting and invoicing package gives you:
Your own dedicated

 

ICAEW Chartered Accountant

 

on hand to provide valuable advice when you need it.
Award winning software

 

allowing you to run your business and access your accounts from your Mac, PC, tablet or phone.
Your accounts fully taken care

 

of for one affordable monthly fee.
Face-to-face meetings not required – but still available if you need them.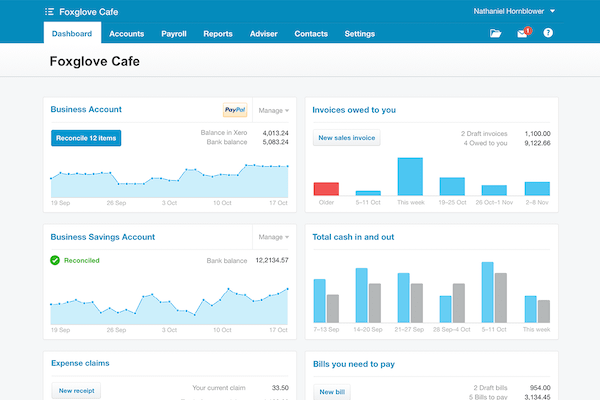 Your package allows you to:
Get a real-time view of your cashflow

Connect your software to your bank account and get your latest bank, credit card and PayPal transactions imported and categorised. Just click OK to reconcile!

Send online invoices

Improve cashflow and get paid quickly and easily when you send online invoices. You'll have a better connection with your customers – and know when they've opened your invoice.

Manage receipts on the move

Add receipts on the go using Xero Touch the mobile app. Simply take a photo of a receipt and add it to your expense claim.

Reduce manual data entry

Don't waste another minute on data entry chores. Work smarter and faster with online accounting software that's simple, efficient and easy to use.

Collaborate with your accountant and your team.

Your software allows us to view your accounts and provide valuable real-time advice. You can also control the level of access for other staff members.

Free and automatic updates

All updates and upgrades are all done for you automatically, so you'll never worry about having to upgrade again.

Bank-level security

We invest heavily to protect your valuable information – and your data is guarded to the same level as internet banking.
Scroll down to view the full range of features and remember, our software can be extended by hundreds of add-ons to meet your exact business needs!
Benefits
Your accounts are taken care of for a

 

monthly fee

 

rather than an end-of-year lump sum.
You can speak to your

 

ICAEW Chartered Accountant

 

at any time via

 

email

 

or

 

phone

 

when it suits you.
No trips

 

to the accountant's office or face-to-face meetings are needed –

 

unless you want them.
You can view your finances in

 

real time, and get advice if you need it.
Your accountant can provide a wide range of advice on all aspects of business finance including

 

business funding.
View our online accountant packages:
Here is a full list of our software's features. In addition our accounting software can be extended with add-ons to meet your specific business needs.
Easy online accounting: Log in online any time and see up-to-date financials in real time.
Automatic bank reconciliation: Just click OK to reconcile your latest imported and categorised bank transactions.
Dashboard: See all your bank balances, invoices, bills and expense claims at a glance and add new transactions with a click.
File storage: Attach files to any transaction and store them with unlimited file storage.
Inventory: Inventory items speed up invoicing while tracking sales and purchases.
Multi-currency accounting: Reconcile foreign currency accounts. Gains and losses are calculated for you.
Integration with 500+ apps: Over 500 business applications like inventory, invoicing and time tracking connect.
Search: Search across all of your transactions and contacts to find the information you're looking for.
Online invoicing: Get paid faster online by sending customers online invoices to improve cashflow.
Quotes: Create and manage quotes and easily turn them into invoices when the work is done.
Claim those expenses: Handle personal expenses – just review and approve receipts.
Create purchase orders: Create and email custom purchase orders and copy to bills for payment.
Enter bills: Manage your spending and make bill payments in bulk to creditors.
Pay your employees:

 

It's easy to pay your employees, reduce manual data entry and increase compliance with combined payroll and accounting.
Submit Real Time Information: Make RTI submissions to HMRC easy. All it takes is a couple of clicks to ensure that your submissions are timely and correct.
Financial reporting: View and share interactive reports and budget in real time – no waiting for month end.
Fixed assets: Easily update fixed assets and depreciation schedules for accurate reporting. Track fixed assets from purchase to when they're sold or disposed of, with a range of depreciation options.
Business Performance Dashboard: Quickly see how your business is performing using a range of key performance metrics.
Get a complete picture of your contacts: Manage their contact details of your customers and suppliers, while seeing the business activities you've done together and the emails you've exchanged.
Smart Lists: Use your accounting data to create targeted customer lists.
Multi-layer security: Our investment in industry-leading infrastructure helps ensures your information is safe and secure.
Data protection: Your data is always available when you need it – and our track record has earned the trust of customers worldwide.
Two-step authentication: Two-step authentication provides an additional layer of security for your account in case your password is stolen via phishing or malware attacks. As well as using your password to log in, you will also need to enter a code generated by an authenticator app installed on your smartphone.
Free support around the clock: Our friendly and knowledgeable experts are here to help with your software – no matter where you are in the world.
Free online training for small businesses: We run free webinars for small business owners.
Online Help Centre: The Help Centre gives you in-depth information and tips on everything the software can do.
Go mobile: Use the mobile app to manage your business while you're on the move. Reconcile, send invoices and create expense claims – from anywhere.
---
What solution do Next Level Business offer?
At Next Level Business we can offer a fully compliant pension setup for you and your business along with the ongoing management of the contributions and payments to the pension provider. We provide a one stop shop service on a low fixed price basis so you can focus on getting back to business.
We recommend this service alongside the operation of our digital payroll service. Get in touch to discuss a tailored proposal for your business.
Fields marked with an * are required