---
Digital accountancy for the Telecom industry. We take a look at one of our Telecoms clients, Evoke Telecom, and show you how we're working together to change the world.
---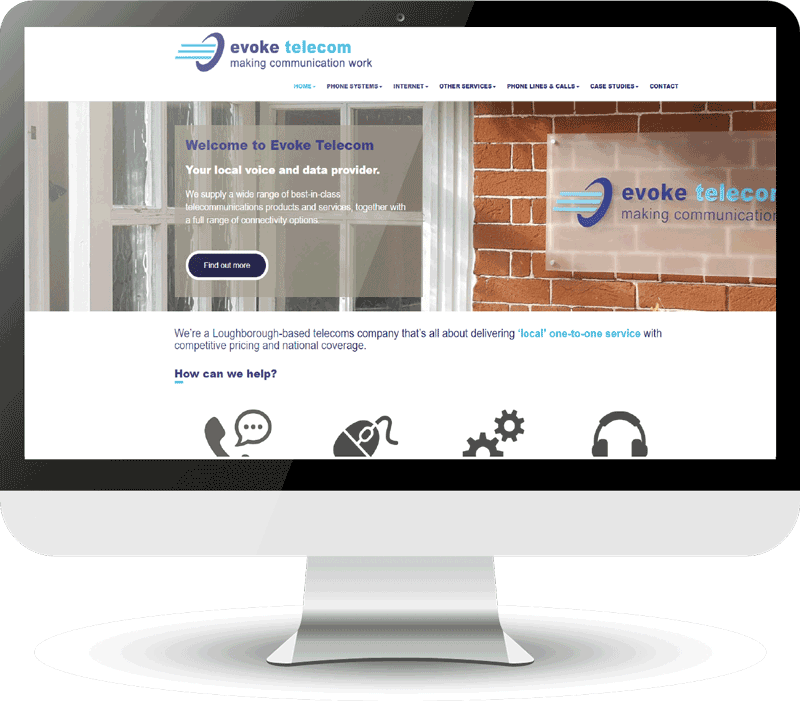 Evoke Telecom - WHAT THEY DO and how they do it
Evoke Telecom deliver cost effective telecoms and connectivity solutions to businesses of all sizes. By providing a full range of services from broadband and phone lines through to the telephone system itself and all associated software and peripherals it is no surprise that Evoke Telecom are quickly becoming the 'One Stop Shop' of choice for many SME businesses. Evoke Telecom have achieved full accreditation to deliver best in breed solutions from Avaya, Ericsson-LG and Gamma (cloud) telephone solutions.
David says "Evoke was born out of telecoms service frustration! We could see that customers of the large providers were being directed to offshored service centres where voice messages did their utmost to divert you to FAQ sections on websites. Smaller providers seemed to take the customers' hard earned cash and disappear 'over the hill'! It felt like in their haste to reduce costs telecoms companies were moving further and further away their customers. Evoke Telecom is reversing that trend, delivering a face-to-face and tailored one-to-one service for all of our customers, big or small!"
HOW WILL THEY CHANGE THE WORLD
Evoke Telecom's mission is clear, to bring back real 1-to-1 service for all customers. Customer first and customer centric, no matter what the size. The missing piece to the telecoms industry. 'Local' 1-to-1 customer-centric service, national coverage, 25 years of combined experience and competitive pricing all help move us towards our mission.
"Why not check out our 'Testimonials' section on our website – we are very proud of the voice of our customers!"
FUTURE BUSINESS OBJECTIVES
Cost optimisation whilst maintaining customer service excellence
Steady growth over consecutive years
National growth outside local area (Loughborough, Nottingham, Leicester)
Evoke Telecom is reversing that trend, delivering a face-to-face and tailored one-to-one service for all of our customers, big or small!
---
evoke telecom & NEXT LEVEL BUSINESS
HOW ARE WE HELPING THEM IN MOVING TOWARDS THEIR MISSION
Straining under the growth of the business, Evoke Telecom turned to Next Level Business to help develop its financial infrastructure to one capable of working effectively with an increased customer base and complex product offerings.
Digital Accounting in the Cloud

 

– The first step being to digitise Evoke Telecoms financial systems from the spreadsheet-based process previously in place. Evoke Telecoms now has access to an online business dashboard highlighting real-time performance, clients who have not paid, and suppliers that need paying, ultimately enabling Evoke to easily manage cash flow.
Digital Automation

 

– Further digital financial platforms are in the pipeline for integration into the business including direct debit systems to automate customer payments.
Accountancy, Tax & Business Advice

 

– Next Level Business has also been providing accounting, tax and general business advice to David to help continue the high growth rates achieved so far.
Case in point; one large customer went into administration and subsequently closed, but we were able to guide David to novate the contract over to the company who bought the assets, significantly reducing exposure.
In short, Next Level Business provides a total digital support package for a growing telecoms business that is now set up for successful future growth.
David and the rest of the team at Evoke Telecom can now focus on other areas of the business with added effectiveness through the digital systems in place.
SERVICES DELIVERED: Digital Accountancy, Monthly Management Reporting, Personal Tax Accounting for Directors, Risk Management.
Since moving to Next Level Business we have benefitted from the perfect mix of online efficiency and the personal 1-2-1 support of Paul Layte and his team. Key financial data is always up to date and readily available. What used to be mundane tasks are now quick, easy, no-nonsense affairs. The business value of Paul, his team and his solution cannot be overstated for a company at our stage of growth!" – David Wardell, Managing Director, Evoke Telecom
We have benefited from the perfect mix of online efficiency and the personal 1-2-1 support of Paul Layte.
---
---
Get in touch
Do you have a mindset for growth?
Get in touch with the Next Level Business team. We have offices in Berkhamsted, Hertfordshire and London, or we can visit you at your premises. Click here to visit our contact page or take the first step with a free financial health check by filling out the form down below.
Free financial health check
Is your business on track to achieve its goals?
Find out from our experts! Get in touch now for your free financial halth check with no obligations.